CRANKCASE VENTILATION DEVICE FOR VAPOR CONDENSATION REDUCING .
<![if !vml]>

<![endif]>KomrisFiltr Ltd., 1126-543, Zelenograd, Moscow, 124460, RU т./ф. 8 (499) 710 57 27,
E-mail: smkuzmin@mtu-net.ru<![if !supportNestedAnchors]><![endif]>, smkuzmin@mail.ru
http://www.mtu-net.ru/comrisfilter
Applications: #2011145748RU (priority 10.11.2011) – the Russian patent #2482294 has been taken.
#PCT/RU2012/000765 (filed 17.09.2012 with priority 10.11.2011)- Cession of rights to acquisition of a national patent in PCT system States according to the PCT application is offered.
SUMMARY CLAIMS DESCRIPTION (EN RU) DRAWINGS (EN RU)
DEVICE FOR VAPOR CONDENSATION REDUCING IN СRANKCASE oF INTERNAL COMBUSTION ENGINE.
The invention relates to engineering industry and may be used in motor industry.
The technical result, consisting of reducing to the extent of prevention of vapors condensation in the crankcase of an internal combustion engine, is reached by means vapors removing from the crankcase gases, that circulate in the circuit: crankcase 1 – channel 8 – cooler-trap 7 – channel 9 – crankcase 1, by means of vapors condensation in the cooler-trap 7, cooled by ambient air. The crankcase gases (KG) circulation in the pointed above circuit is the result of stack effect in the circuit during the engine cooling down after stop and the result of the channel ventilator 16 running in the time of engine starting and warming-up.
The condensate 13 flows down from the cooler-trap 7 through the tube 18 to the condensate buffer unit 21, from which through the valve 22, opening under working temperature, to the warmed-up crankcase 1, where turns into vapors, which, as crankcase gases (KG) constituent, enters the engine inlet manifold 3.
17 Claims, 23 Drawings, 3 Tables
Reviewer S.Kuzmin.
<![if !vml]>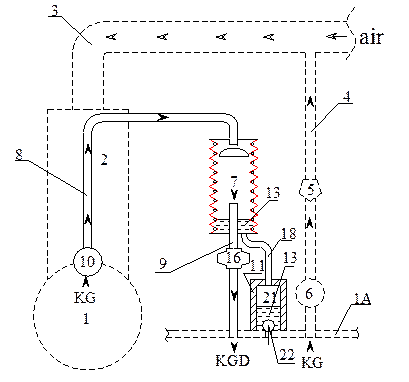 <![endif]>